December 6th, 2008
The Fall of 1993 saw me rocking three different boots. I had a pair of Bellotti Mostros, Lanzera Top Techs and the trusty, reliable Adidas Copa Mundial.
Why I needed three seperate boots? Well…I used to obsess over professionals…anything they did, I wanted to do. If Lothar Matthaeus changes his boots at halftime then I change my boots at halftime.
Copa Mundial
I think it's safe to say that a good majority of players have owned a pair or two of Copas. To this day they're still one of my favorite boots. I've tried a handful of other boots…nothing have been able to match the comfort and touch that the Copa provides.
I bought my first pair of Copas from Meek's Sporting Goods at the Upper Valley Mall in Springfield, Ohio. I wore the shit out of them. The kangaroo leather was waterproof…I thought that meant they were impervious to snow as well. During the winter months I would go outside and take target practice with little snow mounds that I would create. My feet always stayed dry…as did my shoes…permanently. I should have done a better job drying my boots.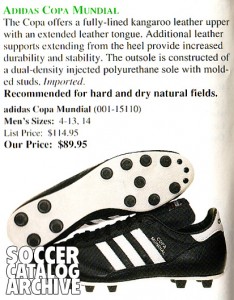 Lanzera Top Tech
My siblings and I all attended the same high school. I remember asking my sister "is the field soft?" after one of her high school games. I was used to playing on hard, dry, midwestern fields. Her reply "yeah, it is" meant one thing…I needed to have a pair of boots with replaceable studs.
I got a pair of the Lanzera Top Techs…Lanzera's top of the line boot at the time. They were expensive…and, of course, I hardly wore them. Unless I was playing in three inches of water…the shoe was uncomfortable. I could feel pressure from each of the six replaceable studs.
My bad habit of not properly drying my boots would once again bite me in the proverbial ass. Because the shoe was so uncomfortable for me…I only wore it on the wettest of fields. After the game I would stick the shoes back in my bag…not to take them out again until the next soggy contest. It wasn't long until the shoes fell ill to dry rot. I'm sure I would have had a totally different impression of the shoe had I a) had a different set of studs…perhaps a set designed for hard ground and b) taken better care of them.
Bellotti Mostro
…and then there were my Bellottis.
I first saw a pair of Bellottis in an ad in Soccer America. I was always intrigued by uncommon shoes…I remember calling various soccer shops asking if they sold Asic soccer boots. I had seen professionals wearing Asics in Europe…I wanted to be the first to wear a pair. The conversations always went comething like this:
| | |
| --- | --- |
| Me: | "…umm…hi…do you have…uh…any Asics soccer shoes?" |
| Jon Q Sporting Goods: | "No. Asics primarily makes running shoes." |
| Me: | "…I know, but…" |
| Jon Q. Sporting Goods: | Click |
I ordered a pair of the Mostros. They were fun for a while. They were unlike any boot I had seen in the sense that they didn't have a lot of branding on them. The manufacturer's name was only visible in two places on the boot: the outer side and the tongue. The tongue…I don't know what was going on with this guy…the tongue on the boot was huge. It was awkwardly sized. You had either two options…you could either force the tongue to lie flat…like the copa tongue did…or you could get crazy and allow the tongue to flap against your ankle for 90 minutes. I opted to fold the tongue flat. The tongue was padded which provided an awkward striking zone when you're trying to nail a Mark Hughes-esque thundervolley.
So the tongue was awkard…equally akward was the lack of an insole. The shoe had a flimsly, almost felt like insole. Needless to say the insole didn't last and neither did my socks. I ruined a number of socks from tiny tacks that were attaching the outsole to the boot.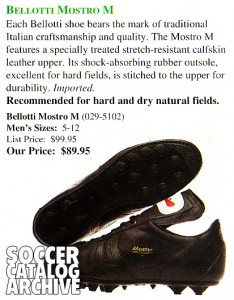 It's amazing how much easier buying boots is now. When I was growing up the nearest soccer shop was 50 minutes away…now I have 3 within 15 minutes of me. I probably never would have purchased either the Lanzeras or the Bellottis if I had the ability to try the shoes on in a shop…all I had to go on with my beloved soccer catalogs.
What boots did you grow up playing in? Leave a comment and let me know.