December 21st, 2008
I remember my high school coach mention he was heading off to the University of Dayton to watch one of the best players in the country, Brian McBride, and the rest of the St. Louis University soccer team take on the UD Flyers after practice one day. I knew who Brian McBride was. His name always seemed to grace the Soccer Americas that I received weekly…much like Claudio Reyna did at the time. I did not realize that I would still be talking about him some 10+ years later.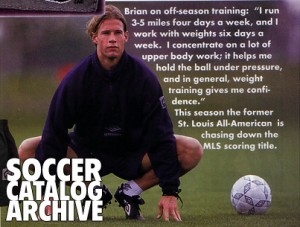 Brian on off-seaon training: "I run 3-5 miles four days a week, and I work with weights six days a week. I concentrate on a lot of upper body work; it helps me hold the ball under pressure, and in general, weight training gives me confidence." Not bad advice for young players looking for some conditioning advice. It's also not bad advice for a 29 year old who plays co-ed indoor once a week then complains about how out of shape he is.
And Brian, why is conditioning important?

"It's a matter of desire with me. I want to always be in shape because there's the possibility that I might get a call at any time to play with the National Team."
Anyone know if Brian ever made it to the National Team? Kinda lost track of him after the Fall 96 TSI Catalog.