October 19th, 2009
Long before Diego was celebrating Martin Palermo's injury time goal with a water landing…and years after he miraculously deflated England and enraged Terry Butcher with the "Hand of God"…Diego Maradona and Puma were selling the Maradona World Cup.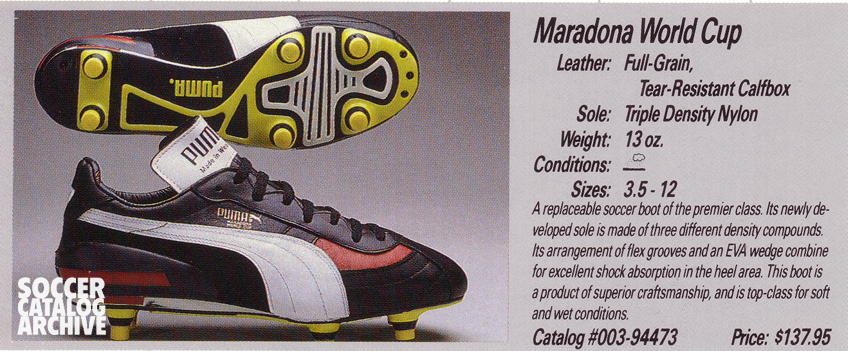 This was taken from a Eurosport catalog from 1988. I had never seen or heard about this boot before. I knew that Adidas had a World Cup boot, the soft ground cousin of the Copa. I never knew that Puma branded one first.
The Maradona World Cup featured a full grain leather upper with a triple density nylon sole. Eurosport was selling the boot for $137.95 and had the following to say about it:
"A replaceable soccer boot of the premier class. Its newly developed sole is made of three different density compounds. Its arrangement of flex grooves and an EVA wedge combine for excellent shock absorption in the heel area. This boot is a product of superior craftsmanship, and is top-class for soft and wet conditions."
Has anyone seen, worn or heard of Puma's Maradona World Cup?